Last Updated on November 10, 2020
Last Updated on November 10, 2020
Sometimes we're asked, "Can you completely remove a tattoo?"
People want to know if they can remove a tattoo at home.
Or they're curious about how to remove tattoos without a laser.
After all, they've heard stories about tattoo removal creams and how to remove a tattoo with salt and ice.
That's why we created this guide to getting a tattoo removed. We'll do our best to cover the facts about how to remove tattoos, including products and home tattoo removal methods you can use.
The Hands-down Best Way to Remove a Permanent Tattoo
Without a doubt, laser removal is your best chance at removing a tattoo. And using a laser is the best method if it's a big tattoo.
You might have success if you go to a dermatologist for dermabrasion or laser removal. But both of these methods are prone to leaving scars.
Unfortunately, tattoo pigment doesn't reside in the epidermis. It's not easy to remove because it's in the top layer of skin down – the dermis.
And getting to it can be quite a challenge.
How Much Does It Cost to Get Laser Treatment?
This is a difficult question as it depends on where you go to get the procedure, how big the tattoo is, and how many sessions you need.
A ballpark estimate might be that a four hundred dollar tattoo might cost four thousand dollars to remove.
Also, people with naturally dark skin may find that laser tattoo removal disfigures them. It may cause their natural skin pigment to lighten.
On the other hand, persons with light skin may forever see a shadow where the tattoo used to be.
In general, old tattoos are easier to remove. Modern ink is more resistant.
If you're thinking about laser surgery, we highly recommend researching it first. Speak to a specialist about the possibilities.
More Detail about Laser Surgery to Remove Tattoos
Traditionally, Q-switched lasers that provide individual pulses of light are the tool of choice for removing tattoos. Q-switched lasers are considered a traditional way of removing tattoos.
A doctor will numb your skin with a local anesthetic. Then they shoot the laser which heats and shatters the ink.
After that, it's up your body to "digest" the ink. Areas of skin with good circulation are easier to erase.
Different colors may require different wavelengths of light or even different lasers.
Don't be alarmed if you walk out of the office with red, swollen, or blistered skin. The worst part is that you'll probably need repeated sessions.
Thankfully, modern pico lasers and technology like the DeScribe patch protect the skin so that you can do more than one lasering during each visit.
How to Surgically Remove Your Tattoo
A dermatologist or a laser surgery may physically cut out your tattoo with a scalpel then stitch your skin back together.
As you can imagine, this usually leads to scars.
Dermabrasion Tattoo Removal
Dermabrasion basically sands your skin down to the dermis so that the tattoo ink bleeds out of the skin.
Hence the idea that some people have about trying salt and ice to remove your tattoo. They chill their skin until it's numb with the ice. Next, they rub it with salt and lemon until the top layer of your skin is raw.
It's one thing to get dermabrasion done in a sterile setting with an experienced doctor who can minimize the damage.
It's another to risk infection and truly ugly scarring.
Besides, it can take a long time, as long as three weeks to recover from dermabrasion.
What about Tattoo Removal Creams?
The Mayo Clinic says, "At best, tattoo removal cream might fade or lighten a tattoo".
Take it from the experts – it might work to some extent, but you might irritate your skin, and it won't work as well as laser removal.
But if you're on a budget, you can certainly give it a try.
We'll cover some of the options in a moment.
But before you try tattoo removal at home, home tattoo removal requires skill so we highly recommend you view this documentary.
D'Inked – A Tattoo Removal Documentary
D'Inked covers the development of tattoo removal and focuses on the experience of one man. He's trying to completely remove a full-color half-sleeve tattoo.
In the process of his five-year journey, you also get an inside peek at the world of tattoo artistry.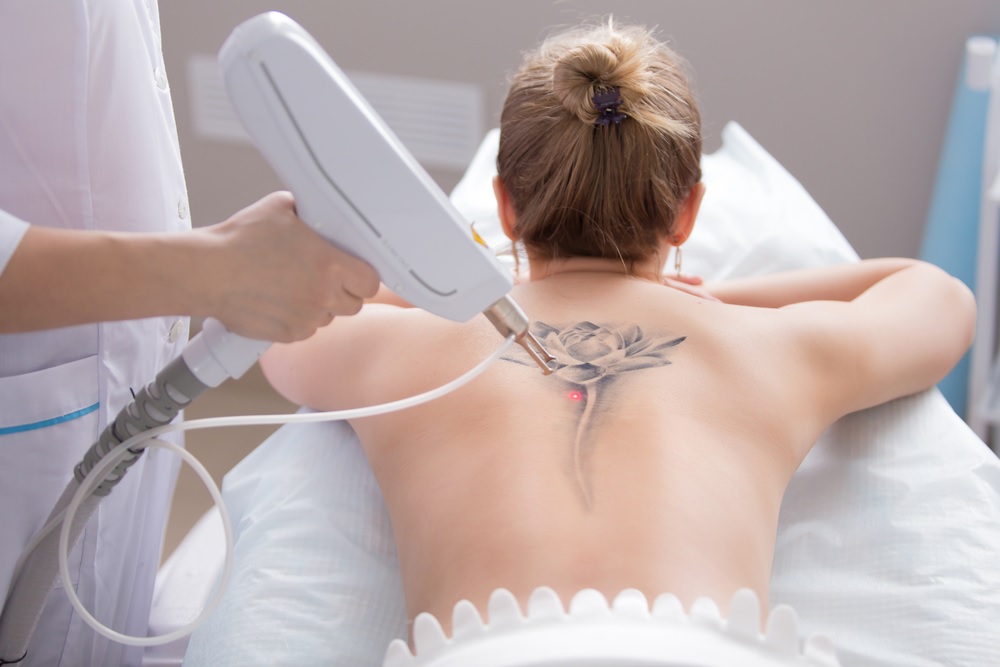 Okay, now let's look at home tattoo removal creams.
How to Remove Your Tattoo at Home
While we can't recommend the salt and ice method to remove your tattoo at home, there are a few creams or chemical peels. The chemical peels might lighten the ink.
Also, lemon juice has bleaching properties, the vitamin C in lemon juice replenishes the skin. Therefore, this is also a great way to completely remove a permanent tattoo with lemon juice
The problem is that these are all designed to work with the epidermis or top layer of skin. The epidermis naturally regenerates itself without any outside help. That's why small cuts and burns eventually heal without leaving a mark.
Skin Tag Remover
This popular product needs to be used for six months or longer to fade your ink. It seems to work better on black and not very well at all on purple or brown.
They say it's safe and effective, but your mileage may vary.
It also works fine for moles, scabs, and other types of skin marks.
Ariella Mole and Skin Tag Remover and Repair Lotion
This skin tag remover from the United States was reportedly proven to work in clinical trials. It's based on emollients and effective ingredients.
The emollients help it penetrate your skin so that its powerful ingredients can go to work on the pigment. It also has urea to speed up exfoliation.
Trichloroacetic Acid – TCA Peel 35% Medical Grade by Dermalure
The Dermalure peel solution is a powerful and effective tattoo removal product. Plan on using it daily for at least three months and as long as nine months.
It's main ingredient is 35% trichloroacetic acid.
QRxLabs Lactic Acid 50% Gel Peel
This lactic acid gel peel by QRxLabs comes with kojic acid, bearberry, and licorice root extracts. It's designed to be used for three minutes every other day.
But how is this different than using a Clarisonic to scrub your skin?
Unfortunately, Fakespot dings this product's online reviews because of possible deception.
On the bright side, this peel will help your tattoos look less noticeable.
InstaNatural Glycolic Acid 30% AHA Chemical Peel
InstaNatural's kit contains trichloroacetic acid. This is an anti-aging face peel that fades dark spots and minimizes wrinkles.
Again, this treats the surface but isn't likely to penetrate down to the tattoo ink.
Side effects include sensitivity to the sun and irritation.
Salicylic Acid 20% Gel Peel – Enhanced with Tea Tree Oil & Green Tea Extract by Perfect Image
Perfect Image makes this salicylic acid peel in a 20% concentration. This is intense if you've never done a chemical peel before.
Salicylic acid is great for clearing up acne and blackheads. It may fade hyperpigmentation caused by sun damage. But don't plan on it erasing your tattoo.
Lactic Acid 50% Gel Peel – Enhanced with Kojic Acid & Bearberry Extract by Perfect Image
The 50% lactic acid peel is boosted by Kojic acid, which is similar to hydroquinone. It's what you might use if you had dark acne scars or freckles you wanted to get rid of.
Lactic acid is milder than salicylic acid, but this is a pretty high concentration.
Overall, this product might work a little better than the one above, but it's not likely to remove a tattoo.
LilyAna Naturals Retinol Cream Moisturizer
Retinol is one of the best anti-aging solutions on the market. It's proven to reduce wrinkles if you use it daily for a few weeks.
Retinol increases collagen production to make the skin firmer. It also exfoliates. But it won't erase tattoo ink.
On the other hand, if you have an old tattoo on skin that looks creepy, retinol cream might tighten up that top layer of skin so that it looks better.
BioTouch Color Lift Permanent Makeup Supplies Cosmetic Tattoo Solution
Cosmetic tattoos are not the same as other tattoos, but we wouldn't be surprised if someone hasn't already tried this solution.
It's made to fix goofs if you're applying cosmetic tattoos. It works best when the pigment is fresh. But it can lift out permanent tattoos done in the past.
If you're interested in trying this, talk to an esthetician who does permanent tattoos (eyebrows, etc.).
Now let's move on to other tools for tattoo removal.
Home Use Lasers for Tattoo Removal
It is possible to purchase pulsed light lasers for home use. Laser treatment very expensive but might end up costing less than visiting a doctor for repeat sessions.
On the plus side, you can perform laser treatments yourself.
On the minus side, you really need to learn how to use the machine properly to avoid damaging your skin. Otherwise, you'll be out a few hundred dollars and still need to go to the doctor for burn care.
NEATCELL Picosecond Pen, Tattoo Removal Pen
This picosecond laser pen isn't very powerful compared to what you'd see in a dermatologist office. It puts out one color of light (blue) which works best on dark ink. You'd have to buy another similar tattoo removal pen for other colors of pigment.
Besides tattoo removal, you can use a laser to break up hyperpigmentation from melanin like age spots or freckles.
But What about Lasers for Hair Removal? Will They Erase a Tattoo?
This is a valid question as it's true that laser hair removal doesn't work well on darkly-pigmented skin. It can't distinguish the hair from the pigment.
Two things may happen if you try to use a hair removal laser on your tattoo.
First, it may not work. Many home use lasers have a lockout feature. If the laser senses something out of line, it may not even fire.
Second, it may work and burn you in the process. Manufacturers recommend never using laser hair removal on tattoos because it will target the pigment and could cause burns and scarring.
COOGA Hair Removal for Women
This hair removal laser uses the same technology as dermatologists. It's FDA-cleared and only needs to be used once every two weeks to maintain smooth skin. It works on light brown to black hair.
Technically, since it works on dark-colored hair, it could zap a tattoo. But see the above regarding the risks of unpleasant experiences and permanent side effects.
Disguising Tattoos
So far we've covered home tattoo removal methods that are less effective, but certainly less expensive than laser treatment.
Instead of removing a tattoo, what if you make it disappear?
Now let's discuss three possibilities for disguising your tattoo.
Makeup
There are full-coverage foundations and concealers available that will hide your tattoo completely.
The pro is that it's an inexpensive option that only takes a couple of minutes to do.
The con is that it's temporary and has to be renewed every time you don't want to see your ink.
Neutrogena Healthy Skin Liquid Makeup Foundation with SPF 20
Neutrogena makes one of the best body foundations available. It doesn't look cakey or fake once you blend it into the skin. Plus, it comes in a variety of tones and shades to match almost everyone.
Not only does it cover body art, but it also camouflages varicose veins, scars, birthmarks, and stretch marks.
Once you apply it, it lasts up to sixteen hours if you set it with powder.
Dermablend Cover Creme Full Coverage Foundation with SPF 30
For face tattoos, use this foundation from Dermablend. Professional makeup artists reach for this one when they need to hide acne on stars.
Neutrogena Hydroboost Makeup Full Coverage Foundation Stick
Right before the job interview, use this concealer stick to cover up your tats. It's water-resistant and transfer-resistant so it won't rub off on your clothes. It even has sunscreen.
Dermacol Make – Up Cover Waterproof Hypoallergenic SPF 30
Dermacol comes from Europe. It's one of the first extreme coverage concealers in the world. It features 50% pigment to hide everything from acne to ink to bruises.
This formula is hypoallergenic and waterproof and another favorite of makeup artists everywhere.
Physical Cover-Up
If applying makeup isn't your thing, you might try physically covering the tattoo.
While Band-Aids can hide finger ink, try these solutions for bigger areas.
Tat2X Ink Armor Full Arm Tattoo Cover Up Sleeve
Although the full arm tattoo cover up it looks like you're wearing a bodysuit or you injured your arm, this cover-up sleeve will camouflage the ink. It's not see-through, and it even blocks UV rays.
Consider wearing this if you have a new tattoo you want to protect, but you need to be out in the sun.
The sleeve is made in the USA with moisture-wicking fabric with a flatlock seam. It won't roll up or slip down your arm.
Tat2X Ink Armor Premium Ankle 6″ Tattoo Cover Up Sleeve
Made of the same fabric as the cover-up sleeve above, this one veils ankle tats.
CicaTape Soft Silicone Tape
Slap on this flesh-colored silicone tape to conceal a tattoo. It's not plasticky, but rather soft and permeable. You can even rinse it and reuse it.
Don't worry; there's no Teflon or latex in the tape.
Altering the Tattoo
Up till now, we've talked about professional tattoo removal, laser surgery, dermabrasion, tattoo removal creams, and using your own laser at home.
But what about simply altering the tattoo?
I seriously recommend that you consult with a tattoo artist about creating new art from the tattoo you no longer want.
Most pros have had experience changing a tattoo left over from a broken relationship or bad choices. Some are very good at it.
If you Google "covering up old tattoos," you'll see pictures that will astonish you.
More Details about Changing an Old Tattoo into Something New and Beautiful
Did you know that when you cover up an old tattoo with new ink, the colors mix together?
Yes, they blend so that the darker color dominates. Of course, they follow the rules – red and blue make purple, yellow and blue make green, and so on.
When you consult with an artist about re-working a tattoo, the colors are only one thing to consider. While you can't go lighter, you can go darker. And fresh ink can really spice up an old tattoo.
The next point to think about is changing the original design to make it part of something different.
To illustrate (no pun intended), the good works of a tattoo studio in Mississippi went viral recently.
They offered free tattoo alterations to former white supremacists and gang members with racist tattoos.
Swastikas and SS lightning bolts were changed into demon masks and skulls, for example. (Still manly but without the hate.)
Another one of our favorite tattoo makeovers transforms a failed Pikachu into Picasso (6).
Just for fun, let's look at how you can get inks and tattoo machines to cover up an old tattoo. They might start you out on a new career.
Kuro Sumi Tattoo Ink Lining and Shading Set
Kuro Sumi ink was originally made in Japan, but now it's formulated in the USA with organic and vegan-friendly ingredients. Artists love it because it's super bright and doesn't fade easily.
The black and gray colors are ideal for outlining and shading.
Kuro Sumi Colors Tattoo Ink – Master Set
Kuro Sumi ink is made in the USA and sterilized for use on humans. It's vivid because it's rich in pigment.
This master set includes black, white, green, orange, yellow, red and blue color ink.
Dragonhawk Mast Pen Rotary Tattoo Machine Gift Box
The rotary tattoo machine isn't the most common style you'll see in a studio. But it doesn't vibrate, it's not noisy, and it's more gentle to the skin.
This set from Dragonhawk carries a reasonable price tag and a lot of value. The company is one promoted by David Beckham's tattoo artist, Gabe Shum.
The pen is made of space aluminum with a Japanese motor. It weighs just over 4 ounces, so it's ultralightweight compared to a coil tattoo machine.
Moreover, the Mast pen is compatible with all cartridge needles and has an interchangeable stroke length.
Obviously, we're not recommending that you buy this and ink yourself. You're likely to get better results if you go to a professional. But if you're reading this, you're obviously interested in learning to tattoo.
Stigma Tattoo Kit ST201 with 2 Coil Machines
You might enjoy using the traditional coil tattoo machines in this kit. One is a liner for outlines, and one is a shader to fill in designs.
Besides the tattoo irons, it comes with a power supply, US-made inks, needles, disposable tips, practice skin, and other accessories.
Stigma provides a one-year warranty, and both irons are CE-certified.
Home Tattoo Removal
We put it off till the end, but we accept that you must really want to remove your tattoo if you've made it this far.
You've heard rumors about Vaseline leaching the ink – they are not true. Even if you put petroleum jelly on your skin every day for a year, it won't fade your tattoo. It might actually brighten the ink instead because it moisturizes the skin.
Perhaps you've thought about how the tattoo artist warned you to protect your ink from sunlight, soaking in water, and abrasive laser treatment.
Maybe you have the half-baked idea that some combination of sunbathing and abrading the hell out of your skin will make the tattoo go away.
Just don't try it. No salabrasion tattoo removal for you. Block it from your mind. You're going to end up with an ugly scar. And once you have that raised, red, scary scar, you might actually miss your tattoo.
Related Guides:
Conclusion
The bad news is that it's not cheap or easy to remove tattoos when you don't want them anymore.
Not everyone can afford or wants to do invasive laser treatments like laser surgery, dermabrasion. But if you're serious about erasing the ink, talk to a dermatologist with experience doing them. You might be able to work out a payment plan that will take some of the sting out of it.
But the good news is that you have options besides tattoo removal. You can cover them or alter them. An esthetician at the salon can teach you tricks for using coverup makeup. And the tattoo artist is your best resource for converting your old tattoo into a new work of art.
If you have experience with tattoo removal – good or bad – feel free to chime in below in the comments section.
Resources:
1. https://www.mayoclinic.org/tests-procedures/tattoo-removal/about/pac-20395105 by Mayo
2. https://www.menshealth.com/health/a19516752/how-to-remove-tattoo/ by Patrick Huguenin,
3. https://www.mayoclinic.org/healthy-lifestyle/adult-health/expert-answers/tattoo-removal-cream
4. https://www.bodydetails.com/blog/will-laser-hair-removal-ruin-my-tattoo/
5. https://www.theguardian.com/us-news/2019/feb/05/sickside-tattoo-studio-erase-the-hate-white-supremacist-tattoo-cover-ups by Deborah Bloom,
6. https://www.boredpanda.com/fail-pikachu-tattoo-cover-up-lindsay-baker/ by Dovas