Last Updated on October 29, 2020
Last Updated on October 29, 2020
You're interested in the best coil tattoo machines, and we're here to help.
Coil tattoo machine is the predominant type you'll see (and hear) in a tattoo studio.
The buzzing and square shape identify them right away.
But if you're new to tattooing, it might be harder to distinguish a liner machine from a shader machine.
It's also not easy to decide if a Coil tattoo machine is best for beginners or professionals. It's not always the price tag that matters.
Today we'll discuss the top coil tattoo machines and types. We'll also explain what to look for when you shop for a coil tattoo machine.
To begin, here's a quick explanation of what a coil tattoo machine is.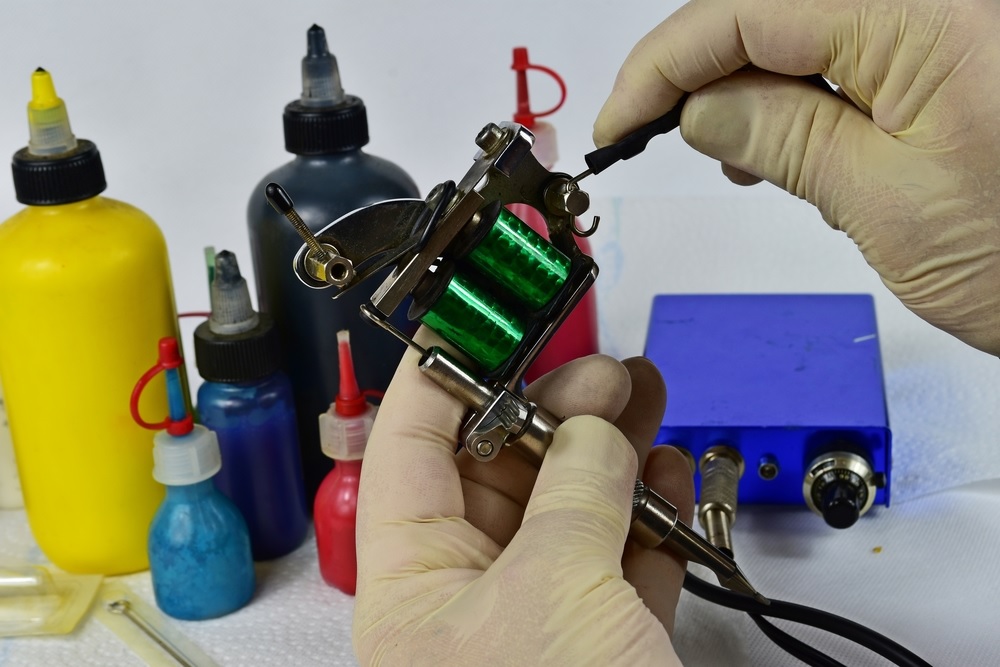 Quick Comparison
If you don't want to read the full article then check out our favorite products in the table below.
16 Best Coil Tattoo Machines (2020 Update)
1. Dragonhawk Craft Hand Made Liner Tattoo Machine
Let's begin with a middle-of-the-road choice. It's not a cheap coil tattoo machine, but it doesn't carry a hefty price tag either. We wouldn't be surprised if you saw pros using this iron, and we'd highly recommend it for serious beginners.
Dragonhawk is based in China. Gabe Shum promotes their products. Moreover, the company offers a satisfaction guarantee on their irons. This machine comes wth a money back guarantee as well. We feel this is one of the best coil tattoo machine available.
This handmade traditional coil is from their Compass lineup designed for professional tattoo artists. It's durable, consisting of an iron frame with a brass finish.
It features quiet operation, medium speed, a hard hit, and a long throw.
The specifications list 10 wrap coils and a 47 µF capacitor. We feel this is complete coil tattoo machine.
2. Dragonhawk 2pcs Brass Coils Tattoo Machines—Shader and Liner
But why stop at one machine? Pick this set of two coil tattoo machines from Dragonhawk 2pcs brass, and you're prepared to shade and line. We recommend these for beginning to intermediate artists.
Each is made from CNC cut machined billet brass frame. The shader comes with a 10 wrap coil while the liner has eight wraps. Neither needs more than 8 V. This is further stuffed with a standard tube vise.
Users say that the liner is fast and hard-hitting to make crisp lines. Meanwhile, the shader is softer. This is one of the best coil tattoo machine that you could get your hands on.
3. Rick Saverias Premium Shader Coil Tattoo Machine
Artists tend to collect irons. Here's one to consider for your collection.
Handmade in South America, this shader machine weighs just under half a pound. It has an iron frame with brass finish as well as brass posts and contact screw.
The eight wrap long coils and 47µF 63 V capacitor is perfect for shading. It can push needle groupings up to size 15.
4. HILDBRANDT .38 Calibre Tattoo Machine Shader
Hildbrandt is one of the top tattoo machine brands in the world. Their .38 caliber shader works quickly but hits softly.
It's built with eight wrapped coils and custom-fitted long springs.
The 3.5-inch square frame is chrome-coated low-carbon steel. Although it weighs 12 ounces, it's well-balanced.
5. HILDBRANDT .22 Rimfire Tattoo Machine 10 Wrap Coils
Hildbrandt's .22 Rimfire liner coil tattoo machine uses a surprisingly small amount of electricity and runs very smoothly. It's the same liner that Morgan "Sticks" Kane used to win a contest in 2007.
Although it's the about the same size as the .38 Caliber shader, it weighs just 8 ounces and it comes with 10 wrap coils.
6. Redscorpion Cast Iron Liner Coil Tattoo Machine
Let's switch gears to look at less expensive mass-produced coil tattoo machines.
Redscorpion cast iron liner coil tattoo machine offers a six-month warranty with a full refund or replacement if there's a problem.
This particular liner has eight wrapped coils, a 33 µF capacitor, and 0.45 mm springs.
The cast iron frame is precision-machined to prevent problems with its function, it comes with a 8 wrap coil.
If you want a practice iron, this one's a pretty good deal.
7. Redscorpion Coil Tattoo Machine Gun Set for Shader and Liner
Beginning tattoo artists can save money with this liner, shader set. It comes with a three-month warranty.
The alloy frame is the same on both irons, but the shader coil tattoo machine has 10 wrap coils, and the liner has eight wrap. The frame is cut and then subsequently processed through a precision line.
Redscorpion claims that it will not overheat even if it runs for 8 hours without any break.
8. Thomas Coil Tattoo Machine
This high quality tattoo coil machine is a liner built with a cast brass frame and eight wrap coils. It has a 33 µF capacitor and this item comes with a 8 wrap coil.
The package includes O-rings, grommets, and tools to make adjustments. There's also a warranty, this is a heavy duty machine and will not overheat even if it runs for 8 hours without any break. The machine is made with a casting technology that helps in producing smooth and simple lines
The only disadvantage is that it comes with a short rear binding post and the build quality is high and robust enough and we feel you need to get this as it comes with a money back guarantee.
9. Artistry Fire Red Cast Iron Liner Tattoo Machine Coffin
The coffin packaging for this high quality tattoo machine gets a lot of attention. But what actually matters is the hardware inside, this machine's pure iron armature bar has outstanding magnetic conductivity.
The iron's lightweight zinc frame is painted red and black. It has ten wrap coils and a 47 µF 63-volt capacitor.
But unfortunately, some owners have commented that the quality is iffy. If all you're doing is practicing on banana skins, it might be alright.
10. Stigma Tattoo Kit ST201 with 2 Coil Machines
Now let's get back to higher-quality coil tattoo machines. This starter kit from Stigma includes two of them: One lining and shading Put it on your shopping list if you're a beginner tattoo artist on a budget.
Besides the irons, this starter kit includes a power supply, seven US-made inks, twenty needles, disposable tips, practice skin, and other accessories.
Stigma provides a one-year warranty. Plus, both irons are CE-certified.
11. HAWINK Complete Tattoo Kit
Hawink put two coil tattoo machines in this kit. They include a power liner and regular liner, a soft shading machine, and a color packer. In other words, it's everything you need to open up shop and the armature bar is a heavy one.
They toss in disposable grips and plenty of accessories for practicing– but no ink.
Everything fits in the sturdy carrying case that locks with a key. We consider this as a complete coil tattoo machine.
12. Solong Complete Tattoo Kit
Are you torn between coil and rotary tattoo machines? Then get this kit from Solong that includes one of each. Then you can experiment with them both to see which best suits your style.
The coil machine has ten wrap copper coils. And the rotary machine is made from anodized CNC-machined aircraft aluminum. A stainless steel ink cups makes the kit different from other tattoo coil machine kits
The tattoo coil machine package comes with a power supply and foot pedal, fifty needles, grips, and other accessories including twenty-eight colors of ink. You need not worry about setting this up as this comes with a guide and a book with several tattoo designs.
13. Inkstar Tattoo Kit Journeyman 2 Machine Gun TKI2CC20
Inkstar is the budget-priced beginner line from Hildbrandt.
What might get your attention if you're new to tattooing is that this kit will help you learn how to ink. It comes with a training DVD and the Tattoo Crash Course 101.
This kit includes an eight wrap liner and a ten wrap shader. They are the third generation, and they run on as low as 5.6 V.
The tattoo coil machine liner has a 47 µF 50 V capacitor and short front spring for speed. At the same time, the shader has a longer front spring but the same type of capacitor so that it's softer and slower for coloring and shading.
There's also a power supply with foot pedal, gloves, practice skin, transfer paper, 20 Truecolor inks, a carrying case, and accessories for the machines.
14. GRINDER Tattoo Kit by Pirate Face Tattoo
Yes, it's imported and inexpensive. We wouldn't recommend this kit to everyone, but if you just want to see what it's like to use tattoo irons, give it a shot. It even has a tattoo instructional book and DVD. This is really easy to use no matter what your skill level is.
You need to know that the package contains a tattoo machine, carrying case, tattoo needles, power, ink cups, grips, gloves, directions etc.
There are four tattoo machines, seven inks, needles, a power supply, disposable accessories, and a carrying case. It just so happens they bothered to include Radiant Colors tattoo ink, which is US-made.
15. Rehab Ink Complete Tattoo Set w/ 2 Guns and More
Rehab Ink calls this a professional kit,, but they include a free e-book buying guide called Tattoo Basics. The price range is also perfect for beginning artists.
The set has one shader and one liner with ten-wrap coils. The power supply has an analog display and a foot pedal. Furthermore, there are seven bottles of MOMs Millennium tattoo ink plus disposable accessories like needles, rubber bands, and green soap.
One fun bonus is the skull-shaped ink holder.
16. Shark Complete Pro Tattoo Kit 8 Gun Machines
Did the offer of eight tattoo machines for this price get your attention?
Unfortunately, Shark Tattoo hasn't bothered to declare what type of tattoo coil machines they are. The only information they give is the working voltage and frequency. We can guess by looking at them, but we would've appreciated more detail.
On the upside, they come with a one-year warranty that covers the LCD power supply, too. Plus, there are needles, tips, and other accessories.
What Is a Coil Tattoo Machine Like?
Coil tattoo machine comes with two coils of wire on a squarish frame. Coil tattoo machine buzz and vibrate while they're in use and a coil tattoo machine is cheaper than a rotary tattoo machine.
The artist presses on a foot pedal or a switch to send electricity through the coil tattoo machine. Then the coil tattoo machine moves the needle(s) up and down a few millimeters.
Because of the springs, generally, the coil tattoo machine can only line or shade, not do both . Most artists have at least one coil tattoo machine of each type.
On the plus side, coil machines are often less expensive than rotary machines. But on the minus side, coil tattoo machine tends to tire out the hand because of the weight and vibration.
They also require adjustments and maintenance more than rotary tattoo machines.
This last point leads us to the next question:
How do you know if a coil tattoo machine is worth the money?
An artist by the name of Jason wrote one of the best explanations about coil tattoo machines that we've ever seen.
He goes into depth about the mechanics of a coil tattoo machine and how to pick a good one.
We'll summarize a little bit of his wisdom here.
Expensive Versus Inexpensive Coil Tattoo Machines
If you've done a little shopping online, you've seen that the market is flooded with cheap imported tattoo machines. There is a pretty big price gap between these models and high-end handmade ones.
If you're a professional tattoo artist, you can write off $300 or $600 tattoo irons as a business expense.
On the other hand, if you're a beginning tattoo artist, 60 bucks might be your budget.
While it's rare to get a dud if you buy a more expensive iron, all you really need is a machine that runs consistently. Some budget-priced irons can provide that.
Once you have trust in your machine, you'll have confidence in your art.
What to Look for in a Coil Tattoo Machine
Here are some points to consider. First, a coil tattoo machine frame affects everything else.
Frames
You might favor iron or brass frames because they vibrate less. But they're heavy.
Or you might like zinc or aluminum because they're lightweight.
Either way, if you find that the frame of your iron gets hot, it's a problem with the circuit.
A poorly manufactured frame may be out of alignment. And a badly aligned frame will work poorly, cause your aim to be off, mess with the circuitry, and possibly cause more pain to your client.
Coils and wrap
Speaking of circuitry, you'll usually find coils with 8, 10, or 12 layers of wire wrapped around a bobbin or iron core.
The number of wraps influences the speed and the downward force of the machine.
Well-made coil machines don't have gaps in the wire.
Be wary of cheap machines that have opaque insulation because they might be hiding a poor wrapping job or fewer coils than they promised.
Capacitor
Frequently, you'll see coil tattoo machines that specify which type of capacitor they use. The most common types are 22 µF and 47 µF.
The higher the number, the slower the circuit. The smaller the capacitor, the less force exerted downward.
The capacitor alone can give you a hint as to whether you're holding a shader or a liner.
Spring
The spring length differs on liners and shaders. Liners have a shorter spring in the back. If you can compare them side-by-side, you'll see it.
Now that you've had a little introduction, here are reviews of the best coil tattoo machines for all budgets.
Conclusion
We hope you discovered the best coil tattoo machines for sale today. When in doubt, get the best tattoo machines you can afford. In that way, you'll be assured of having a tool that can keep up with your personal art style.
If you enjoyed using any of the tattoo irons we reviewed today, please let us know in the comments below.
Resources:
1. https://www.tattoo.com/blog/tattoo-machines-coil-or-rotary/ by MaciekV7, published 12 March 2013, accessed 17 June 2019
2. https://thetattoonerd.blogspot.com/2014/10/coil-tattoo-machines-101.html by Jason Sorrell, published 01 October 2014, accessed 17 June 2019